Critical SB Cares home service report published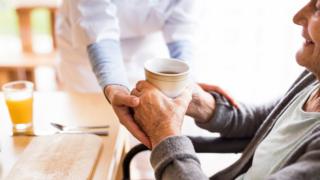 A report on a home care service in the Borders has found repeated failures to make required improvements.
SB Cares - Scottish Borders Council's arms-length care company - said it planned to challenge some of the findings when it saw a draft copy.
The Care Inspectorate report has now been published containing the concerns about the home care east service.
SB Cares said that while there were areas for improvement, other aspects had been praised and made progress.
It was told to make improvements to the personal plans of home care east service users back in March 2016.
It was given a six-week timescale to implement improvements - known as requirements. But when care watchdogs inspected the service again in February 2017, the requirement to improve had to be reiterated, and again SB Cares was given six weeks to improve.
'Positive comments'
Now, a new report from an inspection carried out in March 2018 shows that SB Cares has still not implemented the requirement, and has had to be told to improve the personal plans of its service users a third time.
The inspection also raised concerns about the way the administration of medicine was recorded.
A spokesman for SB Cares said: "While the Care Inspectorate has identified some areas for improvement, a number of areas of the service have been praised and progress made since the last inspection recognised.
"We were particularly pleased to note the positive comments about our staff who were found to be caring, committed and working in a way that is respectful and promotes independence.
"For our part, we remain committed to delivering improvements to training, supervision and quality assurance across the service in line with the report's requirements and recommendations."
'Extremely important'
The care organisation admitted that consistency of staff visiting service users was a challenge for all providers due to recruitment challenges and absences - particularly in bad winter weather.
"However, we do accept that this is extremely important to our service users and is an area that we are seeking to make improvements in," the spokesman added.
"In addition, we welcome the feedback in relation to the scheduling of visits and administration of medication, both of which are a key priority for us.
"While it is disappointing that inspectors note that the quality of personal support plans is not consistently high in all cases, there have in fact been significant improvements made in a number of areas and we have plans in place to improve all aspects of our support plans in all geographical areas within the timescale required."