Union Chain Bridge closure planned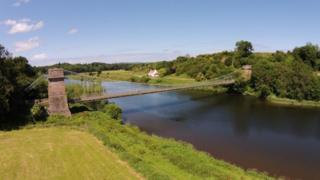 A cross-border bridge between Scotland and England is to be closed to vehicles for four weeks in order to help a £7.3m overhaul to progress.
The move will allow the inspection of the Union Chain Bridge linking the Borders and Northumberland.
It is required as part of a project to conserve the bridge and secure full Heritage Lottery Fund support.
The bridge will be shut to vehicles from 14 May on weekdays between 09:00 and 15:30.
The road will be fully open at weekends while pedestrians, cyclists and horse riders can still use the bridge during the closure.
The overhaul project recently cleared its first funding hurdle ahead of a second round submission to the HLF.
'Internationally significant'
A spokesperson for the partners of the Union Chain Bridge project said: "We were delighted to pass the first round HLF stage, with our bid focussing on conserving and raising awareness of the internationally significant bridge, which celebrates its 200th birthday in 2020.
"Our project also aims to raise the profile of nearby attractions, providing learning opportunities for young people inspired by the bridge's innovative engineering, and developing meaningful cross-border heritage projects and partnerships.
"This includes using the bridge and its conservation to develop educational resources and case study materials for the teaching of science, technology, engineering and maths subjects from primary schools up to postgraduate level."
The group is now "working hard" on its second round submissions which it said the closure was a "vital part of".
"While we realise it will have an impact on local people, efforts have been made to minimise the disruption as much as possible, with walkers, cyclists and horse riders still able to use the crossing," the spokesperson said.