Dumfries and Galloway drug death figures more than double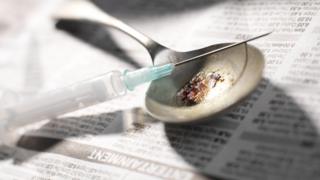 The number of drug deaths in south west Scotland has more than doubled in the past year.
There were nine deaths recorded in Dumfries and Galloway between April 2016 and February 2017 but 22 over the same timeframe the following year.
A council report said the figures followed a national trend of users taking a "multitude of substances".
It said the region showed a significant rise in comparison with other areas due to its relatively low numbers.
The figures are contained in papers for Dumfries and Galloway Council's police, fire and rescue sub-committee.
'Significant rise'
Police acknowledged the rise and said it could be attributed to "poly-drug abuse" including prescription medication and substances being illegally imported.
"Our figures show a significant percentage rise compared to other divisions, however this is due to dealing with lower numbers in comparison, and also with our previous numbers of deaths being below the national average," said the report.
"We participate in a multi-agency local drug death review group, and consider the circumstances surrounding all suspected drug deaths in the region to assess scope for learning, and opportunities for earlier intervention.
"Our dedicated substance misuse officer also works with partners to access and review information regarding non-fatal overdoses, again with the intention of identifying early intervention opportunities."
'Harm reduction'
The report also highlighted work to deliver training along with the region's alcohol and drug partnership for all emergency services on new psychoactive substances.
It said this had been in response to issues at Dumfries prison with a "significant increase" in non-fatal overdoses.
"Substance misuse education continues to be delivered within education establishments throughout our region and the use of service users during these inputs continued to be a success and receives excellent feedback," the report added.
"We continue to work with the local festival organisers and partners to provide multi-agency harm reduction and enforcement at these events.
"Substance use awareness and prevention is paramount and we continue to make best use of our social and traditional media platforms to deliver these messages."