South of Scotland economic body must 'sell the region'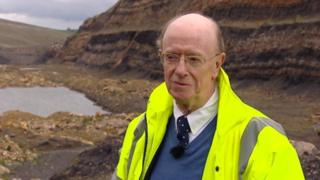 The head of a group paving the way for a new south of Scotland enterprise agency has said it must do everything possible to the "sell the region".
Prof Russel Griggs chairs the South of Scotland Economic Partnership (SOSEP) and is currently touring the area.
He said it was vital the new agency was "for the south, by the south, of the south and in the south".
He urged as many people as possible to take part in meetings he is holding in the Borders and Dumfries and Galloway.
Prof Griggs said people had made it clear they wanted the new agency to properly represent their area.
"A recurring message has been that it must also reflect our needs in the south of Scotland, which may not be the same as those of other areas, and really sell the region, and not just as a tourism destination, but as somewhere for business and for people to live and work, of all ages," he said.
"We have had discussions with almost 200 people so far and these have ranged from fishing to high-tech industries, covering the huge diversity of our economy, including farming, land management, forestry, rural retail sectors, community businesses and communities themselves."
'Inclusive growth'
He renewed his call for as many people as possible to take part in the consultation process.
Prof Griggs added: "It's important for us to work with businesses of all sizes to understand the issues and opportunities that exist and how best the partnership, and in due course the enterprise agency, can attempt to address these and drive inclusive growth across the area.
"We still have more events to come - including an additional event in Kirkcudbright on 28 May - and I'd continue to encourage anyone who wants to have their say on the future of economic development in the south of Scotland to make sure they come along to have their voice heard."