Smuggled puppies seized at Cairnryan port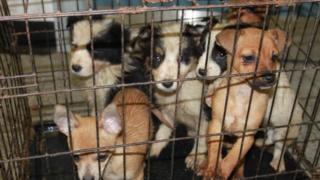 The Scottish SPCA has seized 27 puppies being smuggled from Ireland at the port of Cairnryan.
They were discovered on Wednesday morning as part of Operation Delphin set up to tackle the illegal trade.
A random check by ports police found the animals locked in large wooden containers.
The SSPCA said the puppies would have fetched at least £600 each. They have been returned to Ireland and are being cared for by the ISPCA.
Investigations into the discovery are ongoing.
An undercover SSPCA inspector said: "Unfortunately, the puppy trade is big business in Scotland with thousands of dogs being brought into the country each year from Northern Ireland and the Republic of Ireland, in particular from large scale puppy farms.
"They are then sold on at huge profit by the dealers."
Operation Delphin involves a range of agencies including Stena Line, Police Scotland, Trading Standards, HMRC and all UK and Ireland animal welfare charities.
"We are all continuing to work together which is testament to everyone's commitment to tackle this growing problem," added the inspector.
Dumfries and Galloway Council has given powers to certain Scottish SPCA inspectors under the Trade in Animal and Related Products (Scotland) Act 2012.
It allows them to enforce the legislation at Cairnryan to address consignments that have been brought in from the Republic of Ireland.
'Unfortunate animals'
The undercover inspector said the illegal trade remained a "major issue" and trafficked puppies often developed diseases and died which could be "extremely distressing" for owners.
ISPCA Chief Inspector Conor Dowling said the manner in which the puppies had been concealed showed the lengths dealers would go to in order to make money from "unfortunate animals".
"While most of these puppies might not have been of high value in Ireland, it is estimated that the entire consignment may have fetched over £10,000 on the British market," he said.
"For some people, that potential profit outweighs the suffering caused to vulnerable puppies.
"The ISPCA will be making further inquiries with regard to the origin and transport of this group of pups."
He also reminded the public to only buy puppies from a reputable breeder.
"Always view the mother of any puppies that are for sale when the pups are still feeding from the mother, where possible it is best to view both parents," he said.
"Never buy a puppy from a car park or allow for home delivery without visiting the breeder's premises."