Buyer interest in Pinneys site in Annan 'credible'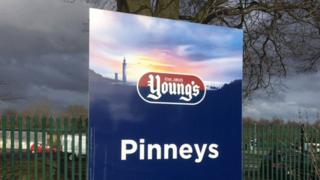 An action group meeting about a closure-threatened seafood factory in southern Scotland has been described as "positive and encouraging".
Enterprise Minister Paul Wheelhouse convened the talks about the Pinneys of Scotland site in Annan.
Hundreds of jobs could be lost if Young's Seafood proceeds with plans to move production to Grimsby.
However, the meeting heard there was "credible" interest in the plant from companies and investors.
There has been cross-party political support from MSPs and councillors to try to save the facility since the closure plans first emerged.
Dumfries and Galloway Council's depute leader Rob Davidson said Wednesday night's meeting had seen further consensus achieved.
'Clock is ticking'
He said the local authority's bid to secure funding for an economic development team had received widespread support.
Sean Marshall, the councillor behind that move, said that he hoped that could be achieved as soon as possible.
"We need a dedicated team in place in Annan urgently to look at ways in which new jobs can be created, either by expanding existing businesses or bringing new ones to the area," he said.
"There is a lot of work going on behind the scenes to explore options for the future of the Pinneys site itself.
"However, the clock is ticking, so the work I proposed needs to start urgently and that team needs to be in place sooner rather than later."
Absolute commitment
Mr Davidson added that there remained optimism that a buyer could be found.
"There is positive and credible interest in acquiring the plant from a number of parties - that is to say companies and investors - who are looking at the possibilities there very seriously," he said.
"We don't yet know what the outcome is going to be but the commitment that was made by the council and Scottish government right at the beginning of this when the announcement was made remains absolute.
"We will pursue absolutely every option - we are ruling nothing out.
"We are in this for the long term so far as supporting the workforce and the wider community of Annan is concerned."