Bee disease outbreak confirmed near Perth and Dumfries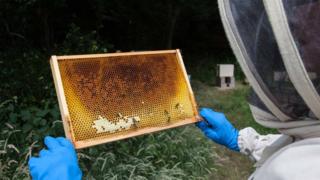 Bee keepers across Scotland have been urged to be vigilant for signs of a disease after an outbreak was found in two apiaries near Perth and Dumfries.
Cases of European Foulbrood (EFB) were confirmed following laboratory diagnosis by Science and Advice for Scottish Agriculture (SASA).
Chief Veterinary Officer Sheila Voas said keepers should "maintain good husbandry practices at all times".
Any suspected cases should be reported to Scottish government bee inspectors.
In order to help control EFB and other diseases keepers have been urged to register on BeeBase, the national database.
It provides up to date information on a range of bee-related issues.
EFB is considered to be spread between hives mainly by beekeepers or contaminated equipment.
Advice is that it rarely kills colonies rapidly and that it can be stopped from spreading by good hygiene and husbandry.
It is considered "one of the less serious bee diseases" and can be treated unlike American Foulbrood which cannot and results in hives having to be destroyed.