Borders Distillery opens to the public in Hawick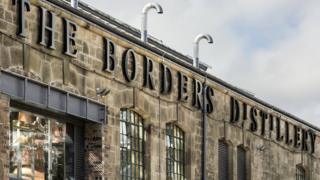 The first whisky distillery in the Borders in more than 180 years has officially opened to the public.
The £10m project has seen an old industrial building on Hawick's Commercial Road converted.
The Three Stills Company said its Borders Distillery would create up to 19 jobs for the area.
Founder John Fordyce said there had been some "very convincing arguments" for looking at the Scottish Borders for the project.
"The skilled labour market and textile manufacturing history, particularly in tweed and cashmere, were two big influencing factors, as was ready availability of natural resources and raw materials," he explained.
The barley sourced for the distillery is entirely grown in the Borders and operating at full capacity it is estimated the site could produce up to two million litres of pure alcohol.
However, it will be a minimum of three years in cask before the first Borders Distillery single malt can legally be made available for sale.
Fellow founder Tim Carton added: "It was five years ago that we came together to create a business plan that would spearhead the resurrection of an industry that had been lost to this region for generations.
"This is a seminal moment for our business.
"In addition to being the first Scotch whisky distillery to exist and operate in the Scottish Borders since 1837, we are now in a position to contribute to the growth of this fine industry.
"Scotch whisky is again experiencing exciting times with growth fuelled by new and more mature markets."