'Bespoke solutions' sought for four Scottish Borders schools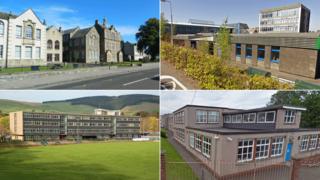 Individual "bespoke solutions" are to be developed for four secondary schools in the Scottish Borders.
It comes after three of them were found to have major defects or were found to be in constant need of repair.
Scottish Borders Council has agreed to create "individualised strategic plans" for the sites in Galashiels, Hawick, Peebles and Selkirk.
The council hopes to replace all four of the schools within the next 10 to 15 years.
A recent assessment graded Galashiels Academy, Hawick High School and Selkirk High School as being in "poor" condition.
Peebles High School was rated as "adequate" with only minor repairs needed.
Now individual plans for each school will be developed towards replacing them in order to maximise the funding available.
In the meantime, some improvement works will be carried out.
A progress report will be brought back to the council in October.