20-year Kirkcudbright gallery dream nearly complete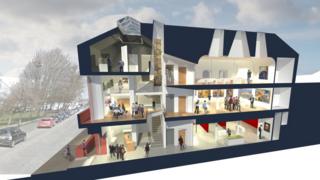 A new art gallery of "national significance" will open in southern Scotland in less than two months' time.
The idea for the facility in Kirkcudbright was first suggested nearly two decades ago.
Work on the £3.1m project to convert the town hall started in December 2016 and it will open on 9 June.
Dumfries and Galloway Council leader Elaine Murray said it was excited to offer a "wonderful, permanent new gallery" to people in the region.
The project first started nearly 20 years ago as a result of community demand for a large space for touring art exhibitions and led to the creation of the Kirkcudbright 2000 group.
The new facility will provide a permanent home for works created by the many artists who have lived in the town down the years.
Andy Ferguson, who chairs the council's communities committee, said the completion of the project was a boost for the area.
"The Kirkcudbright Artists' Town brand has been successfully used to promote Kirkcudbright nationally and now this stunning new gallery will enhance the town's reputation even further," he said.
"It has been estimated that the gallery will bring in around 40,000 visitors per year to the town, which will in turn bring in up to £1m annually to the local economy."
The project has received funding from a wide range of organisations.
'High profile'
Creative Scotland's Andrew Leitch said it had been happy to back the development.
"The brand new facility will create an important showcase of contemporary art and craft in Dumfries and Galloway, adding considerably to the area's cultural offer for locals and visitors alike," he said.
"The gallery will attract high profile national and international work to this artistically rich area of Scotland in a way which has not been possible until now.
"This new facility will also complement the Place Partnership in operation in the area helping to kick-start town centre regeneration and strengthen local communities through high quality creative engagement."