Condition of Galashiels, Hawick and Selkirk secondary schools rated 'poor'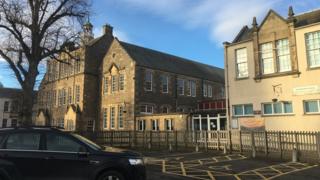 An assessment has found three Borders secondary schools have major defects or are in constant need of repair.
The sites in Galashiels, Hawick and Selkirk were all graded as "poor" by the study of their condition.
The report also looked at Peebles High School which was rated as "adequate" with only minor repairs needed.
It is part of a wider study by Scottish Borders Council looking at the shape of education provision across the region for years to come.
The four schools were each rated from A to D with A signifying the building was performing well but D meaning its economic life had expired.
Galashiels Academy, Hawick High School and Selkirk High School were graded at C with Peebles High School given a B.
Donna Manson, director of children's and young people's services, said: "It is the ambition of children and young people's services that all four of these secondary school learning environments are replaced or substantially improved at the earliest possible opportunity.
"Ideally, this timeframe would not stretch beyond 15 years.
"This aim is to ensure that the secondary school provision across the region is not only graded A for condition and suitability but will also provide the learning opportunities and experience that young people require to reach their full potential in the Scottish Borders."
Nationally, the condition of 83% of secondary schools in Scotland is rated as either A or B, with just 59, including the three Borders schools, receiving a C rating.