Coldstream bank closure has had 'tremendous impact'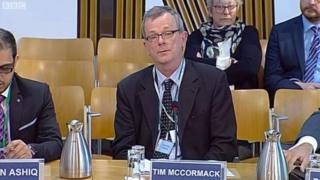 A former business analyst in the City of London has outlined the effect of a nearby bank closure on his newsagents in the Borders.
Tim McCormack was giving evidence to the Scottish Parliament's economy committee.
He said that he had seen business fall immediately after the Bank of Scotland in Coldstream shut.
Mr McCormack told the committee that other businesses had also been affected by the move.
"Sales went down overnight by 20% - not just because of the actual branch being closed but the removal of the external ATM was very significant and significant not just for me but for the pub opposite and businesses near me," he said.
He said that it has had a "tremendous impact".
"Two girls that worked for me have had to go," he said.
"I am going to end up working 60 hours a week just to keep the business going to pay off the loan that I rather stupidly undertook.
"It has had a significant impact on me."
The committee also heard from Ferhan Ashiq, from Prestonpans Community Council, who said bank closures combined with ATM charges and Post Office closures were having a big effect.
He said his local Royal Bank of Scotland had shut down leading to a "painful transition".
He told MSPs that he now had to go to Musselburgh or Tranent and he said the queues at those RBS branches were "horrendous".
Official figures indicate the number of bank branches in Scotland reduced by a third between 2010 and 2017.
The committee announced an inquiry into the issue in March.
It is examining the impact of the closures on businesses, consumers and the Scottish economy and looking at what steps can be taken to address any issues identified.