Whitesands flood scheme inquiry set for the summer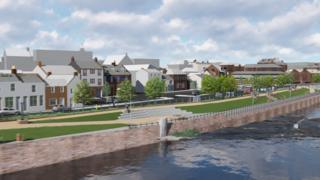 A planned public inquiry into a £25m flood protection scheme for the Whitesands in Dumfries could take place by the end of the summer.
A pre-meeting is to be held within the next couple of months.
Objectors have been told that the full hearing into the project could follow in July or August.
The Scottish government agreed to sanction a public inquiry to allow disputed facts to be considered through an external and independent process.
Dumfries and Galloway Council's administration has said it believes the project would provide the right level of flood protection and help boost regeneration.
However, opponents have voiced concerns about the costs, the impact on riverside views and parking spaces.
Councillors have previously heard that the overall timescale for the hearing and decision could take up to two years.
It will decide whether to take the scheme forward, modify it or abandon it entirely.