Closure halt call at Pinneys plant amid Young's Seafood sale plans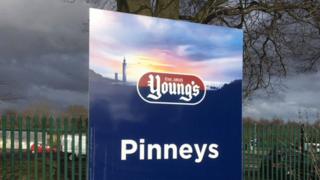 MSPs have called for plans to close a seafood plant in Annan to be put on hold after its parent company was put up for sale.
Young's Seafood has started consultation on moving production from the Pinneys of Scotland site to Grimsby.
However, it has now emerged that the parent company is looking for a buyer.
Labour's Colin Smyth and the SNP's Joan McAlpine said that meant the whole process in Annan should be halted.
High level talks have been held to try to save hundreds of jobs at the plant.
'Treated appallingly'
Scottish Secretary David Mundell and Enterprise Minister Paul Wheelhouse have held discussions with management.
Mr Smyth - who has also had talks - said the latest developments put the situation in a new light.
"The company should call an immediate halt to any plans to close Pinneys as they have no idea what any potential new owners of Young's may wish to do with the site," he said.
"It may well be that they will want to retain Pinneys and the workforce and Young's should not be making any decisions until that is clear.
"To do so would simply show further contempt by Young's of a workforce and community that have been treated appallingly by the company."
Ms McAlpine also said that the proposals to shut the site should now be halted.
'Additional uncertainty'
"It is imperative that the closure plans are put on hold so that the consultation can run its course, and so that the action group has the chance to talk to the new owners of the plant," she said.
After talks with management Mr Wheelhouse said there was a commitment from the company to "find solutions or facilitate a buyer".
He also urged Young's to keep its options open in light of the fact that a new owner might want to retain the Pinneys site.
Mr Mundell said the news of the potential sale brought "additional uncertainty" to the situation.
He said Young's had indicated that would not lead to a change of heart in relation to the proposed closure. However, he said he did not think they could rule that out.
"It may be that somebody buying the whole group may take a different view," he said.
Analysis by Douglas Fraser, BBC Scotland business/economy editor
First, Pinneys of Annan faces closure. Then the whole company, Young's Seafood, is put up for sale. Does the sale halt the closure? Not necessarily. And it doesn't look likely.
The Pinney's processing plant is seen as financially unviable, to handle the Marks & Spencer contract it has been servicing. By shedding 450 workers, it moves some work to Grimsby, and takes on 200 workers.
Other companies are getting other parts of the M&S Food contract, meaning more work at Dawnfresh in Uddingston and Arbroath, as well as 2 Sisters Food Group in Carlisle.
The private equity firm selling Young's Seafood wants to maximise the return on its investment, trouser any profit, and move on. Pinneys could be seen as a productive asset and therefore valuable. That was the case being made today by five MPs and MSPs who met the boss, plus council representatives.
But it seems Young's sees it as a burden. If they don't close it down, the next owner would, and that would carry a cost. So its owners may reckon the whole company can achieve a higher selling price without it.
Don't forget that the sale of Young's brings uncertainty for the other plants, at its home base in Grimsby, the other plant in Annan, where they make scampi, and in Livingston and Fraserburgh. Including both Annan plants, the workforce in Scotland is about 2,000.
The best hope for Pinneys campaigners is that the management do what they did with Fraserburgh in 2015 - pulling back from closure plans. That was under a previous chief executive, and it still meant significant job losses in the Broch.
The company has pledged to work closely with staff and engage in "meaningful consultation" before any final decision is made.
It stressed developments at the site were no reflection on the "committed and skilled teams" at the plant.