Teenager lost drugs suitcase in bus mix-up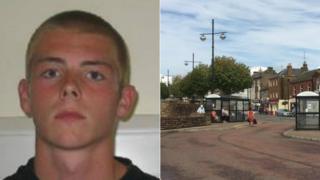 A teenager lost a suitcase containing £6,000 worth of cannabis on a bus - and was caught after trying to retrieve his missing luggage.
Another passenger picked up 18-year-old Ryan Tormey's suitcase by mistake after he missed his stop in Dumfries.
The bags of cannabis were discovered after the luggage was handed in.
Police made a tongue-in-cheek appeal on Facebook asking if anyone had lost a suitcase of drugs. Tormey was traced after he went to the bus company.
Dumfries Sheriff Court heard that he had been unaware that the drugs had been found under some clothes.
Tormey, from Kelloholm, admitted being concerned in the supply of cannabis on the Whitesands in Dumfries last August.
Luggage unloaded
The court was told that he had been visibly shocked and shaken when he realised he had missed his stop and the case had been left behind.
Fiscal depute Jennifer McGill said Tormey had boarded the bus at Manchester and the suitcase had been put in the hold with other baggage bound for Dumfries.
She said: "The luggage was unloaded onto the pavement at Dumfries for people to pick up the items belonging to them and the suitcase was handed in to the tourist office."
It was only some time later that Tormey approached the driver and asked when they were due in Dumfries - only to be told they had already passed his stop.
The fiscal added: "When told this, the driver described Tormey as visibly shaking."
Tormey eventually got off the bus, which was travelling to Northern Ireland, in Newton Stewart.
He was unaware that the suitcase had been picked up by another passenger by mistake and then handed in at a nearby tourist information office.
It was opened there in a bid to find the owner and the wrapped bags of cannabis discovered.
'A bit wasted?'
This prompted police to post on social media asking for the owner to come forward.
"Were you a bit wasted last night?" they asked.
"Did you misplace a suitcase with £6,500 worth of drugs in it? Great news, it's been found and we have it at Dumfries Police Station."
"Just pop in, tell us what's inside it, where you left it and we will be happy to return it to you!" the post continued.
Tormey, who was unaware that the drugs had been found, was caught after he went to the bus company to try and retrieve his case.
A solicitor for the teenager said she would detail his mitigation following background reports.
Sheriff Brian Mohan deferred sentence for a month.