SB Cares challenges home service criticism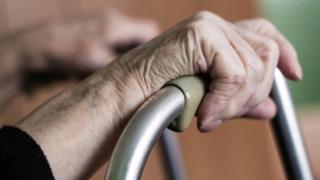 Care chiefs in the Borders plan to challenge a new report into one of their services.
SB Cares - which is owned by Scottish Borders Council - claimed the Care Inspectorate (CI) report on its east home service was too negative.
It has yet to be formally published but the organisation said it intended to contest some of the findings.
The CI said it did highlight positive elements but would not "shy away" from areas which needed improvement.
SB Cares operations director Lynne Crombie told councillors last week that she would be meeting inspectors this week to "challenge some of the content" in the report.
'Mixed in'
"The way that the CI reports has changed, and we have now a restriction on the number of words they can use in each section," she said.
"Previously, they were able to highlight areas we were working well in and the areas we needed improvement as two separate areas, but now they've mixed it all in together."
Ms Crombie said inspectors seemed to "pick up on negatives" rather than highlighting good practice and called for a more balanced approach.
'Not good enough'
The CI said it only published its reports after it had "carefully considered" all the evidence gathered at inspection.
"Our report will clearly set out the positive elements we found, but we will not shy away from highlighting areas that need to improve," a spokesperson said.
"Whilst we found some positives on this inspection, we also found some areas that are not currently good enough.
"We always share a draft of our inspection report with providers before the final report is published to highlight any factual inaccuracies and consider carefully their comments, but our role is to clearly tell the public what we have found based on the evidence we uncover and help make care better.
"We expect the provider to be planning improvements already, based on our early feedback to them."
SB Cares was recently criticised by inspectors for failing to make improvements nearly two years after being told do so so.