Dumfries and Galloway town centre living fund details revealed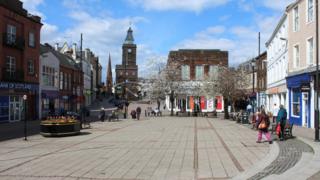 Details have been published on the proposed allocation of £1m to help breathe new life into town centres across Dumfries and Galloway.
The Town Centre Living Fund is part of the council's strategy to tackle derelict properties and sites.
The million pound fund was agreed by the local authority in February.
Its communities committee is now being asked to approve how the cash is split in order to produce the maximum benefit to the areas involved.
It is being recommended that £500,000 be allocated to registered social and private landlords - as well as community groups and charities - involved in affordable housing projects backed by Scottish government initiatives.
Another £250,000 would be set aside to tackle empty homes and help owners meet the cost of bringing vacant properties back into use.
Officials are recommending a 50% grant rate - which would equate to a maximum award of £20,000 based on works costing £40,000.
A further £250,000 would be earmarked for town centre properties deemed to be below tolerable standard.