'Human error' blamed after passports posted to wrong people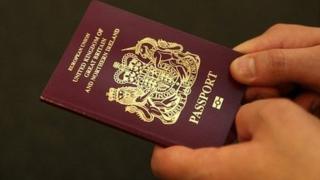 The Home Office has blamed "human error" after five people in Dumfries and Galloway were sent strangers' passports.
An urgent investigation was launched after the security blunder was uncovered by BBC Scotland.
It led to concerns about the security of valuable personal data.
A Home Office spokesman said the security of personal information was of "paramount importance" and it would re-issue passports to everyone affected.
The problem emerged after Charmaine Firth, a mortgage adviser from Dalry in Dumfries and Galloway, applied for a passport earlier this month.
She was due to receive it last Friday but when she opened the envelope the passport inside belonged to a man from nearby Twynholm.
She could not get in touch with HM Passport Office to report the problem so she used Facebook to trace the Twynholm man.
He told her he had been sent the passport of a woman from Newton Stewart.
When Ms Firth contacted her, she said she had the documents of Glanville Jones, 94, from Kippford.
Meanwhile, Mr Jones had been sent the passport of Evie Whyte, 18, who lives in Port William.
He told BBC Scotland that the issue had caused a lot of confusion.
He said: "A girl phoned me yesterday, she hadn't got her passport but somebody had told her somebody had got mine.
"And she wondered whether I'd got hers - but I hadn't, it was a different girl's that I'd got.
"I am bothered about it, I don't think it's right really. I thought about phoning the MP actually."
Ms Whyte said she was also sent the wrong passport but she returned it to HM Passport Office.
Mr Jones said he posted Ms Whyte's passport to her, while the Twynholm man picked up his documents personally from Ms Firth.
However, Ms Firth herself has yet to trace her documents and she is concerned that her details are at risk of being stolen.
'Really huge concern'
"Someone out there has received my passport," she said.
"It's a total breach of the data protection act. Our passport details can be used fraudulently so that's obviously a really huge concern for me.
"I can't understand how there has been such a big mix-up."
The official advice to people who have found themselves in this situation is to contact HM Passport Office to arrange for the passport to be returned.
Mr Jones said he had difficulty getting in touch with the agency and Ms Firth said she was waiting for a call back after speaking to someone on Friday.
Ms Firth, a mother-of-two, is due to go on a family holiday to the Costa Brava in two weeks' time.
"Hopefully I will have my passport before the 11 April, if not it will be three of my family members going without me," she said.
A spokesman for the Home Office apologised for the blunder and said steps were being taken to ensure it would not happen again.
"Due to human error a small number of customers had their passports mis-delivered," he said. "We would like to apologise for this and for any inconvenience caused.
"The security of our customers' documents is of paramount importance. We are in contact with the customers affected, to recover the mis-delivered passports and re-issue new passports quickly.
"Her Majesty's Passport Office and our delivery company, DX, take this matter extremely seriously and will be taking steps to ensure that this is not repeated."
A total of 472 passports were lost during delivery in 2016 - up from 312 in 2012, according to the UK government.