Merlin trail aims to conjure up visitors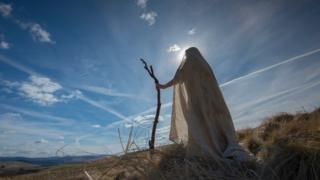 A new trail uncovering the "true story" of Merlin hopes to attract visitors to southern Scotland.
It covers more than 30 sites in Dumfries and Galloway, the Scottish Borders and up into the central belt.
It has been developed by the Arthur Trail Association to encourage people to learn about what it calls the "real man" behind the legend.
It coincides with the launch of a permanent exhibition at Moffat Museum looking at the area in the Dark Ages.
A website for the trail has also been set up.
The magician Merlin is a key figure in Arthurian legend with many different versions of his story being told.
Robin Crichton, of the ATA, believes the mythical character is based on a real-life figure with strong connections to what are now southern Scotland and northern England
"Merlin was a man of learning which is a translation of the word druid," he said.
"If you say druid you think of people in white frocks dancing around but he was a man of learning and one of the last great druids of the old religion."
Research has led the Borders-based author and filmmaker to conclude that Merlin was the head of a clan based near Gretna which was annihilated by rivals in a bloody battle.
He believes that caused him to flee into the Southern Uplands, then part of the Caledonian Forest.
'International legend'
"They say Merlin went mad with the horror of the slaughter, he took to the Caledonian Forest, fled north and holed up in a cave on Hartfell just outside Moffat where he lived for 10 years avoiding capture and living off what the forest could provide," he said.
"That was a very, very hard life he was half-starved half the time."
Mr Crichton is dismissive of counter-claims to Merlin's story from Wales, Cornwall and France.
"Merlin was a Welsh speaker and Welsh was the language of the whole of southern Scotland at the time that he lived," he said.
"But with the invasions of the Angles and various others the stories got shipped to Wales for safe keeping - they developed in Wales, they were borrowed by the Normans who relocated them to Cornwall, they were then relocated to France, to Brittany.
"It became an international legend."
The south of Scotland theory was advanced by Nikolai Tolstoy in his book The Quest for Merlin 30 years ago.
"I think most people do agree that the earliest Merlin legend definitely belongs to this part of the world," he said.
Regional archaeologist Andrew Nicholson also said Dumfries and Galloway had a case for links to Merlin.
"I think that Dumfriesshire as a whole has not only a good claim for Merlin, there are links that could be put through to Arthur as well, which is part of the Merlin story," he said.
"It is certainly as good a claim as anywhere else.
"We have enough connections in the region to suggest that elements of the Merlin story undoubtedly did originate in this region."
'Boost tourism'
Mark Turner, who runs Solway Tours, described it as a "fantastic opportunity" to bring more people to the area.
"There are opportunities for this type of story to be told and I think there is a market out there across the world for these types of stories," he said.
Mr Crichton also believes that is the case.
"In Brittany there is a Merlin trail which is purely the legend - that gets 150,000 visitors a year. This can do better than that," he said.
"It can really boost cultural tourism because it is a totally international story."