Dumfries and Galloway Council staff in plea over stress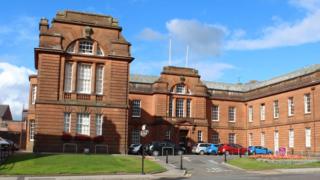 A call has been made for an action plan to be put in place to help council staff facing work-related stress.
It comes after a survey of nearly 2,500 workers on the Dumfries and Galloway local authority found half of them had faced issues in the past 12 months.
Unison branch secretary Grant Coltart said the council did have measures in place but said more could be done.
The authority's Healthy Working Lives Champion Archie Dryburgh said it was committed to tackling the issue.
Mr Coltart said the union was regularly dealing with staff suffering difficulties.
'Procedures in place'
"We have got members coming into us on a day-to-day basis experiencing work-related stress," he said.
"We are hoping with our survey that the council will now adopt an action plan and take it forward.
"The tools are already there in the council - there are already processes and procedures in place."
He said some more work on mental health might be required along with greater awareness of the procedures available.
"Every time this council is being asked for savings it has an effect," he said.
"It has an effect on those individuals who want to leave the council now, who are looking at early retirement, who have decided they have had enough.
"But it also has an effect on those who are still left to deal with that workload that still needs to be done."
'Feel safe'
Mr Dryburgh said the council wanted to do everything possible to assist any workers affected.
"We are working together with the trade unions and we want our staff to feel safe," he said.
"We want our team leaders to understand that they have a responsibility under legislation to make sure that their staff are well looked after.
"But we also want to make sure that it is done in an open and a transparent way so that the staff do feel valued - that they come forward and tell the managers when they feel stressed."