Eyesore Annan depot set for demolition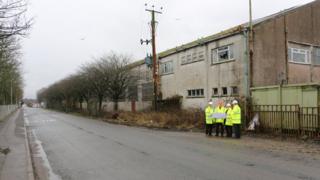 Work has started ahead of the demolition of an eyesore former council depot in southern Scotland.
The site on Stapleton Road in Annan has also become a "haven" for nesting seagulls causing a nuisance in the area.
Dumfries and Galloway Council said work had started to make the area secure and divert power serving nearby businesses.
Demolition work will start shortly afterwards and is scheduled to take about eight weeks.
Councillor Sean Marshall said: "I am delighted that work will commence to demolish the Stapleton Road depot which has not only become an eyesore but nesting seagulls have plagued nearby residents for several years.
"Also, there are some exciting economic opportunities that are currently being explored for this prime site by Enterprising DG which will have a positive economic benefit for Annan and the surrounding area."