Two hurt in large-scale disturbance in Newton Stewart street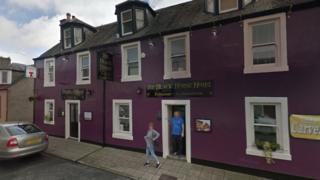 Two men have been seriously injured in a late-night disturbance in Dumfries and Galloway involving up to 40 people.
Police received reports of people fighting outside the Black Horse Hotel in Queen Street, Newton Stewart, at about 23:35 on Saturday.
A 29-year-old man suffered an ear injury in the fracas, and a 48-year-old man was treated for facial injuries - but more people may have been hurt.
Two people have been arrested in connection with the disturbance.
Det Sgt Andy McDowall said an investigation had been launched into the incident.
He added: "We understand at the height of the disturbance there could have been as many as 30 to 40 people involved and it is important that any witnesses come forward and speak to police.
"Two men were found with serious injuries and it is likely that other people would have been hurt during this violent incident.
"I would appeal to anyone who witnessed the disturbance, or even attempted to help break it up, to please get in touch to help us establish the full circumstances and identify those at fault."
Police said a 38-year-old man was arrested in connection with an alleged serious assault, and a 46-year-old woman was arrested in connection with an alleged breach of the peace. A report will be sent to the procurator fiscal.