Borders abbeys plunge into 'symbolic' darkness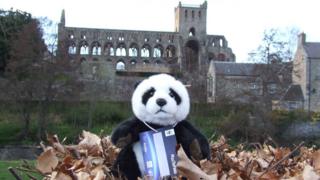 Three of the historic Borders abbeys are to have their lights switched off in a show of support of Earth Hour.
The WWF event takes place on 24 March from 20:30 to 21:30 as a "global moment of solidarity for the planet".
Scottish Borders Council and Historic Environment Scotland are teaming up to turn out the lights at Jedburgh, Kelso and Melrose abbeys.
They hope it will encourage other people in the region to also show support for action on climate change.
SBC's Energy Efficiency Champion Gordon Edgar said they were proud to support the event.
He added that the council was already delivering its services with a "considerably smaller carbon footprint" than it once had.
Dr Mairi Davies, HES climate change manager at Historic Environment Scotland, added: "We are really pleased to be part of Earth Hour with SBC again this year.
"It is more important than ever to make sure that we work together to encourage sustainable choices for people, buildings and communities to help protect the environment and historic sites at risk from climate change."