Trio jailed over Dumfries £200,000 house raid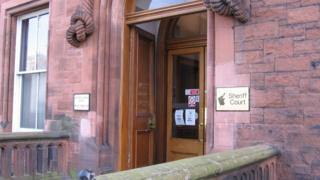 Three men who broke into the home of a Dumfries pensioner and stole more than £200,000 have been jailed for a total of more than seven years.
Colin Clark, 51, of Kelton, was found guilty by a jury of breaking into the house in Carnegie Street last September and was sentenced to 40 months.
His son Conor Clark, 24, of Kelton, and Aaron Gemmell, 23, of Dumfries had both pleaded guilty to the offence.
They were both jailed for 24 months at Dumfries Sheriff Court.
The court heard their haul included more than £200,000, more than £2,000 in US dollars, a quantity of jewellery, watches, medals and a coin.
A solicitor for Gemmell said his client had accepted being guilty but was not involved in the preparations for the offence, did not know the details and provided assistance to the other two by driving them to and from the house where he had remained in the car.
Controlling influence
Clark junior was said to bitterly regret his actions and accepted that it was bad judgement on his part. He had no previous history of dishonesty.
A third solicitor stressed that Clark senior had maintained his innocence from the start and that was still his position.
He had been remanded in custody for about six months and during that time had co-operated with the authorities in trying to work out compensation for the victim of the offence.
Sheriff Brian Mohan told Colin Clark that the evidence had shown that he was a controlling influence in the crime.
It was stated in court that cash recovered totalled £72,000 which left £128,000 outstanding, and it had been agreed that compensation in various forms would be paid by all three.