Borders General Hospital under 'exceptional pressure'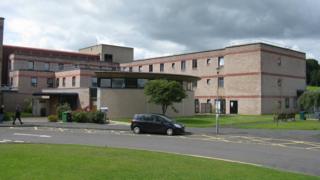 NHS Borders has said the region's main hospital faces "exceptional pressure" after severe weather last week.
Medical director Dr Cliff Sharp said the conditions meant they were unable to discharge many patients who were ready to go home.
The Borders General Hospital is also experiencing high demand for accident and emergency services.
The public has been urged only to attend A&E for a serious illness or injury needing urgent attention.
"We are working hard to discharge patients who are well enough to go home to create some more space, however this takes time," said Dr Sharp.
"If you have a relative in any of our hospitals who is ready to be discharged, please make arrangements to collect them as soon as you can.
"We are looking after some very sick people so please help us take the pressure off the hospital and only go to A&E if you have an illness or injury that is serious and requires urgent medical attention."
He said anyone attending A&E might have to wait longer than usual.
He added that in non-emergency cases there were a number of other options including GP surgeries and community pharmacies.
Advice on how to treat minor illnesses, ailments and injuries can also be found via www.nhsinform.scot.