Great Polish Map of Scotland to be unveiled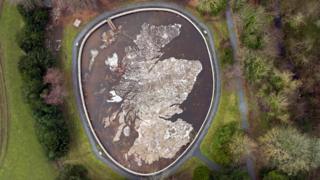 A giant three-dimensional concrete map of Scotland is to be officially unveiled next month in the Borders after lengthy restoration work.
The Great Polish Map of Scotland was built in the 1970s in the village of Eddleston, near Peebles.
It was constructed in recognition of Scottish hospitality to Polish soldiers during World War Two.
The opening will take place on 12 April and it is hoped the map will attract visitors to the area.
The campaign to restore the map in the grounds of the Barony Castle Hotel began several years ago when a group of volunteers constituted Mapa Scotland, a charitable trust, to advance the plans.
'Rich history'
The idea for the original project is thought to have originated with Jan Tomasik, proprietor of the hotel from 1969 to 1977.
He settled in Scotland after World War II and developed his concept for the map with input from his former commander, Gen Stanislaw Maczek, who also lived in the country.
The map sits in an oval pool about 160ft (50m) wide and 5ft (1.5m) deep with water recreating rivers, lochs and seas.
Ireneusz Truszkowski, Consul General of the Republic of Poland in Edinburgh, said: "We are delighted to be able officially unveil the restored Great Polish Map of Scotland in the same year in which Poland is celebrating its 100th anniversary of regaining independence.
"The map is one of the symbols of the commitment of Polish people and Polish soldiers to the rich history of the Polish paths to independence.
"The restoration has been made possible thanks to the enormous contributions of many, mostly Scottish friends, who have given their time to this project for many years. We owe a great depth of gratitude to them."
'Greatly valued'
Culture Secretary Fiona Hyslop described the map as a "fine example of Scotland's ties and friendship with Poland".
"The project further strengthens the long-standing cultural connections between our two nations, while emphasising our shared history and heritage," she said.
"We are pleased that thousands of Poles, almost half of all EU nationals in the country, have chosen to make Scotland their home.
"Their contribution to our economy and society is greatly valued.
"I look forward to visiting the map site again in April this year and to celebrating the centenary this November of Poland regaining its independence."