Scottish Borders prepares for flooding threat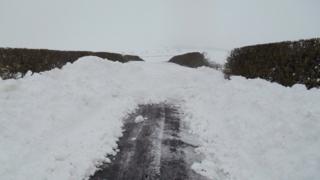 Scottish Borders Council has started to prepare for potential flooding due to melting snow and forecast rain.
The region was one of the worst affected by severe bad weather for much of last week.
The local authority said it expected all its schools to reopen on Tuesday after several days of disruption.
However, attention has now turned to possible flooding problems as snow begins to thaw in rising temperatures.
Chief executive Tracey Logan said: "While we continue to deal with snow clearance, we are now preparing for the potential for flooding, ensuring sandbag stores are stocked and checking flood grilles for example.
"There is a degree of uncertainty about the volume of rain we may see during Tuesday morning and early afternoon, and combined with the risk of large quantities of melting snow at lower levels, there is a real risk of surface water flooding.
"We are also closely monitoring local river levels as they too may be impacted depending on at what height and where the thaw occurs."
She said that brought "new challenges" for staff and communities and urged residents to make sure they were "appropriately prepared".