Dumfries and Galloway Council agrees 3% tax increase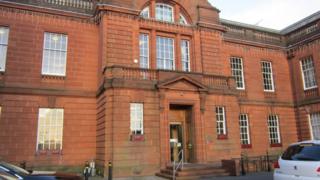 The local authority which had the lowest council tax rate in mainland Scotland has agreed a 3% increase.
The Labour and SNP administration in Dumfries and Galloway said the move would bridge a £10.7m funding gap.
It is part of budget plans which will see investment in anti-poverty measures, year-round free school meals, roads and school wireless technology.
Opposition Conservative councillors had also proposed a tax rise and a halt to the Whitesands flood scheme.
About half of Scotland's councils have already agreed their tax rates and decided on a 3% rise.
The Dumfries and Galloway authority followed suit when it met at its headquarters to agree the spending plans for 2018/19.
Dumfries and Galloway Council tax changes
Band
2017/18 charge
2018/19 charge
A
£720.31
£741.92
B
£840.37
£865.58
C
£960.42
£989.23
D
£1,080.47
£1,112.88
E
£1,419.62
£1,462.21
F
£1,755.76
£1,808.43
G
£2,115.92
£2,179.40
H
£2,647.15
£2,726.56
Council Leader Elaine Murray said the increase in tax was necessary to protect services in the region.
However, she said the area was still likely to remain the one with the lowest council tax in mainland Scotland.
The council administration also intends to see investment in major capital projects like Stranraer waterfront and the second phase of the Dumfries learning town scheme.
The Conservative group had also proposed a tax rise but it would have halted a flood protection scheme in Dumfries in order to increase expenditure on roads.
However, the local authority agreed to proceed with the administration's spending plans.