Nightclub bid at historic Robert the Bruce killing site in Dumfries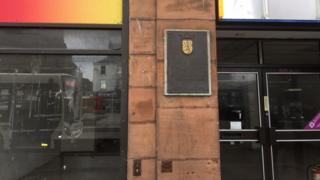 Plans have been lodged to create a nightclub near the spot where Robert the Bruce began his bid for the throne of Scotland.
Bruce killed John "Red" Comyn, his rival for the crown, at the old Greyfriars Church in Dumfries in 1306.
A proposal has now been tabled to overhaul an empty pound shop which sits close to that site.
A plaque outside the vacant store commemorates the spot where the historic killing took place.
Bruce met "Red" Comyn in the Dumfries church on 10 February 1306.
Comyn was killed at the high altar and Bruce began his bid for the throne.
The remains of the monastery sit below a number of empty shops in Dumfries' Castle Street.
A neighbouring Greggs bakery put up a plaque in its premises to mark the historic event.
The proposals for the nightclub include a number of alterations to the current premises.
They would see the creation of a bar area, dancefloor and DJ booth inside the building.