Rescue of 1,200 tonne cargo ship off Skye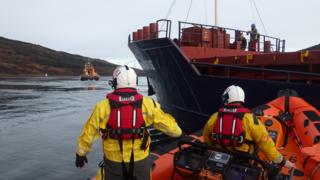 Lifeboats have helped rescue a 1,200-tonne cargo ship which broke down off the coast of Skye.
The 65m (213ft) CEG universe was heading through the notorious Kylerhea Narrows between Skye and Glenelg when it became stuck with a broken rudder.
The vessel was carrying a cargo of road salt to Gairloch.
A RNLI lifeboat crew from Kyle of Lochalsh arrived shortly before 08:00 on Sunday followed by the crew from Mallaig.
The cargo ship was using its anchor to attempt to hold position against the strong eight-knot tide but the anchor failed and it began to drift backwards.
The two lifeboats took the vessel under tow and held it against the current until tugboat the SD Kyle of Lochalsh from the British Underwater Test and Evaluation Centre military testing range in Kyle arrived at 10.15.
The tug and lifeboats then manoeuvred the vessel through the narrows and towed it into Kyle Harbour shortly after noon.
Andrew MacDonald, of the Kyle of Lochalsh lifeboat, said: "There's not much room in the Narrows and with the length of the vessel we weren't far from the shore but with the power of the bigger Mallaig lifeboat we were able to hold in position.
"It was thanks to the SD Kyle of the Lochalsh that we managed to get it out, without them we would have really struggled to get it out the Narrows."