Halo Trust charity worker suspended over sex attack claim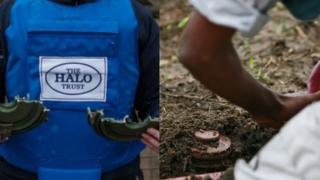 A Scottish charity has suspended a member of staff following a sexual assault allegation.
The Halo Trust removed a junior employee based in Myanmar, also known as Burma, from duties in January pending an investigation.
The Dumfries-and-Galloway landmine removal organisation says the local British embassy and the Department for International Development (DFID) were informed at the time.
The man denies the allegation.
The Halo Trust employs about 8,000 people in more than 20 countries as the world's largest humanitarian mine clearance organisation.
A spokesman from Halo Trust said: "In Myanmar, a junior Burmese member of staff was suspended in January this year and is currently being investigated following an allegation of sexual assault.
"He denies the allegation.
"The local British Embassy and DFID were informed within 24 hours of the allegation. The Charity Commission has been informed. We take such allegations extremely seriously."
The disclosure comes at the end of a week which saw admissions from several charities.
It emerged that the Scottish Catholic International Aid Fund (Sciaf) had dealt with two cases of sexual misconduct by its representatives abroad.
The first case in 2012 involved the alleged rape of a 15-year-old girl by a 45-year-old Burundian man.
The second case in 2016 involved an Ethiopian man accused of sexual misconduct with a boy under 16.
The revelations followed condemnation of British charity Oxfam over the way it handled claims staff hired prostitutes in Haiti in 2011.
On Friday, Scotland's charity regulator said there had been 13 allegations of sexual misconduct within the sector in the past two years.
The Office of the Scottish Charity Regulator (OSCR) is the independent watchdog and registrar for Scotland's charities.
Scottish Conservative leader Ruth Davidson this week praised the work of the Halo Trust after a four-day trip to Kabul in Afghanistan to observe its work.