New Hawick bridge honours 'voice of rugby' Bill McLaren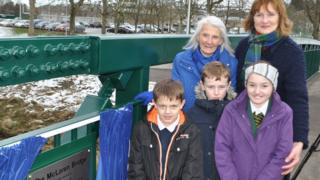 A new bridge has been named in honour of the "voice of rugby" Bill McLaren.
It is part of the wider £3.6m regeneration of the Wilton Lodge Park in the commentator's home town of Hawick.
A plaque was unveiled by his widow Bette and daughter Linda Lawson along with pupils from Drumlanrig Primary and Burnfoot Community schools.
Ms Lawson said she could "only imagine" what her father might have thought about receiving such recognition.
"I have no doubt he would be thrilled and honoured to be remembered in this way by his 'ain folk', especially since it was the children of Drumlanrig and Burnfoot who made the suggestion," she said.
"Although he was respected and revered in many countries, he was a Hawick man through and through and this recognition by the town he loved would have meant the world to him, as it does to mum and the whole family.
"We look forward to bringing his great-grandchildren to visit, to play and to appreciate what this means."
She said members of the family already enjoyed walks through the park and would give a statue of her father a "wee pat on the head" on their way by.
The regeneration scheme is scheduled to be completed this summer.
Watson McAteer of Scottish Borders Council said: "Bill McLaren is an iconic Hawick figure, not just as the renowned rugby commentator but a PE teacher who taught thousands of pupils.
"It is fitting that the new bridge to Wilton Lodge Park, where Bill McLaren was a common sight coaching school rugby teams, is named after him."
Lucy Casot, of the Heritage Lottery Fund in Scotland which supported the project, said the redevelopment, which includes a new cafe, would allow more people to enjoy the area.
"It is fitting that a bridge named after the 'voice of rugby', will link the community with a place for sports, play and recreation," she said.
"The sound of children enjoying all that Wilton Lodge Park has to offer is a fitting tribute to a much-loved local hero."