Crichton Estate turnover remains strong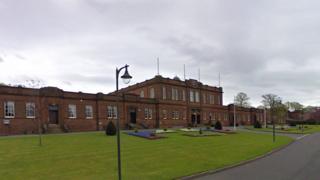 Turnover on the Crichton Estate in Dumfries is forecast to remain at over £3m despite losses being suffered by its hospitality business.
A report to councillors said a review was being undertaken to improve performance in that sector.
Turnover is projected at £3.1m for 2017/18 with gross profit of £2.8m - both slightly down on last year.
The Crichton Trust, which runs the estate, is undertaking a budget review to tackle loss-making areas.
Figures contained in a report to Dumfries and Galloway Council examine the impact of the winding down of the Crichton Development Company which has left the trust in direct control of all aspects of operations on the estate.
It reported that the property business was "relatively buoyant" with a letting occupancy rate of 92%.
'Budget review'
Income from commercial rents is estimated at about £1.2m per year.
However, the hospitality business has been under review with the Easterbrook Hall showing a projected loss for 2017/18 of £190,000.
Neuro's Bar, Spa and Restaurant - which opened in November 2015 - is also forecast to lose about £100,000.
The trust was said to recognise that it could not continue to subsidise its hospitality operations from its property business.
The report said a "base budget review" was being carried out to implement an improvement plan on the sector.
It is anticipated that exercise will be completed by July.