Stranraer and Larne services mark Princess Victoria anniversary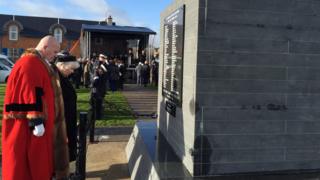 Services have been held in Scotland and Northern Ireland to mark the 65th anniversary of a ferry disaster that claimed more than 130 lives.
The MV Princess Victoria sank on its journey from Stranraer to Larne on 31 January 1953.
Wreaths were laid at memorials in both towns and services held.
Dumfries and Galloway Council leader Elaine Murray said the tragedy still resonated in the region even after so many years.
She offered her "heartfelt sympathy" to the bereaved.
"We still admire the valiant efforts of the crew and their fellow seafarers, who risked, and in some cases sacrificed, their own lives to save others," she said.
"For those who lost loved ones, whether a partner, a parent, a son or a daughter, the consequences are still keenly felt."
This year, following research by historian Liam Kelly, an additional plaque was unveiled honouring two more people known to have died in the disaster - servicemen Thomas Saunders and Gordon Wright.
Council depute leader Rob Davidson said: "It's fitting that we commemorate this tragic event each year, particularly so when we are able to confirm two more victims.
"The severe weather of January 1953 had tragic consequences, particularly in Holland and Britain.
"The storm and an unfortunate sequence of circumstances resulted in the loss of the ferry between Stranraer and Larne and the death of 133 people."
He said they wanted to "respectfully remember them and think of the impact on their loved ones".