Revellers caught up in River Nith rescue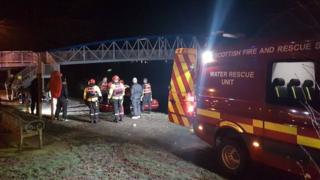 A number of people had to be pulled to safety amid efforts to help a woman who had fallen into the River Nith in Dumfries early on Saturday morning.
Emergency services were called out to the scene at about 02:15.
Police said a number of people - some emerging from the nearby Big Burns Supper site - tried to intervene and one got into difficulty in the water.
They said everyone was safely rescued but said such operations should be left to the emergency services.
One man involved told the Dumfries and Galloway Standard he had put on a diving suit and waded into the waters to help rescue the woman who had first fallen in.
He said he did not believe she would have survived in the river on her own.
'Best intentions'
Police said that when they arrived at the scene they had seen the 29-year-old woman and were able to throw a life ring to her to keep her afloat.
They said a number of people, some of whom had left the Spiegeltent venue, tried to get involved with the "best intentions".
"One jumped into the river, thinking they could help, however quickly got into difficulty and required to be rescued by the police," a spokesman said.
He said other "well-meaning members of the public" had also tried to get into the water to assist but had been held back by police due to the temperature and flow of the water.
'General search'
"Some members of the public, believed to be under the influence of alcohol, did enter the water, got into difficulties and they themselves then had to be rescued by the emergency services in attendance," he added.
"All persons that entered the water were rescued and some taken to Dumfries Infirmary for checks on their welfare.
"Given the actions of some, a general search of the area was carried out to ensure that there was no-one else in the water."
He added that although nobody had been injured they always urged members of the public to leave rescue operations to the services equipped to deal with them.