Big Burns Supper festival in Dumfries reports audience surge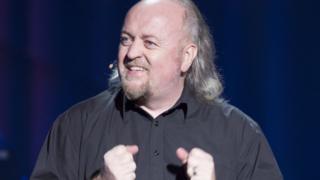 The Big Burns Supper festival has reported an audience surge after moving its hub back into Dumfries town centre.
Organisers said attendances for the 11-day event had increased by 66% as its Spiegeltent venue returned.
The festival drew to a close on Sunday after performances from artists including Bill Bailey, Donovan, Ocean Wisdom and Badly Drawn Boy.
Executive producer Graham Main said it had been a "lot of fun" and a "big hit with our audience".
Last year the festival based many events at Easterbrook Hall on the Crichton estate but this year the Spiegeltent was reinstated on the Whitesands in the town centre.
Mr Main said the line-up had proved to be a success.
"We have started to see a lot of new people coming to shows for the first time," he said.
"As the festival grows we are becoming more confident about the uniqueness of the programme we present.
"Artists who come to play are astounded by the quality of the acts we present. There is not a Spiegeltent line-up in the world that rivals ours."
'Constant inspiration'
The festival said restaurants and bars around Dumfries had also reported a "bumper month" thanks to the event which is now in its seventh year.
Karen Clapperton, who chairs the voluntary charity board which runs the festival, said: "We are hugely thankful to the community of Dumfries who have been a constant inspiration to us in our vision to stage this amazing festival.
"The local volunteers, tradespeople and businesses that get behind the festival are all part of the magic that is Big Burns Supper.
"Dumfries is forever in your debt."
Organisers added that work would begin next month on creating next year's festival with community workshops to generate ideas for that event.