Heritage centre for Auschwitz victim Jane Haining officially opened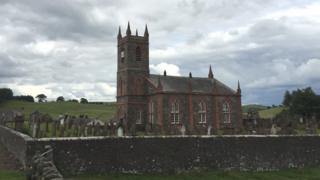 A heritage centre telling the story of the "heroism, bravery and personal sacrifice" of a Scot who died in Auschwitz is being officially opened.
The tribute to Jane Haining is situated in the church in her home village of Dunscore.
It includes photographs, letters, documents and other personal effects of the Church of Scotland missionary.
The centre is being opened by Lord-Lieutenant of Dumfries, Fiona Armstrong, on Holocaust Memorial Day.
She said: "Here in Dumfriesshire, we are very proud to honour the memory of such a brave and selfless woman.
"This new heritage centre will help to keep Jane Haining's memory alive and it is all tribute to those in Dunscore who have made it possible."
Ms Haining's niece, Deirdre McDowell, will unveil a Historic Environment Scotland plaque in memory of the missionary, who worked at the Scottish Mission School in Budapest during the 1930s and 1940s.
She refused to return home after war broke out - despite advice from church officials - saying the children needed her in the "days of darkness".
Ms Haining was arrested in 1944, charged with working among Jews and taken to Auschwitz-Birkenau extermination camp in Nazi-occupied Poland, where she died aged 47.
Rev Iain Cunningham, convener of the Church of Scotland's World Mission Council, said: "This year's theme for Holocaust Memorial Day is the power of words - words that can make a difference both for good and evil.
"So it is fitting that at this time we remember the poignant words of Jane Haining.
"When instructed by the Church to return home for her own safety, she wrote back 'if these children need me in days of sunshine, how much more do they need me in days of darkness?'
"Jane's words live on like a light shining in the dark places of today's world."
Ms McDowell said she was proud to represent her family at the event.
"It is a fitting tribute to Jane's memory that a heritage centre has been opened in the village where she was born," she added.
"The people of Dunscore have been wonderful in getting this centre up and running so there is a comprehensive, lasting memorial to her life.
"I am excited about the prospect of visiting the village where I was born and it will be lovely to be able to walk around a room in the church and look at memorabilia."
A memorial cairn for Miss Haining also stands near Dunscore Church.
The heritage centre is open on Sunday between 14:00 and 16:00.