Forest worker death near Selkirk 'a tragic accident'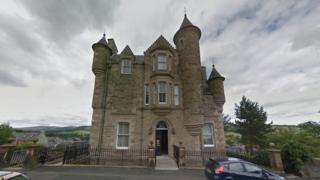 A fatal accident inquiry has been unable to establish the circumstances behind a tree falling and killing a chainsaw operator.
Kenny Scott, 58, of Minto near Hawick, died on the Sunderland Hall estate near Selkirk on 31 January last year.
The inquiry heard speculation a tree may have bounced and struck him while he was trying to dislodge another tree.
However, without direct witnesses or evidence a sheriff said he could not include it in his determination.
Sheriff Peter Paterson made no findings other than the cause and time of death at the end of the one-day inquiry at Selkirk Sheriff Court.
He explained to relatives that usually the court could give some comfort on how an accident occurred.
'None the wiser'
He added: "Sadly in this case we are really none the wiser than the parties were at the time of the accident.
"A tragic accident has occurred and Mr Scott sustained injuries as a result of a tree falling on him somehow and these injuries caused his death.
"Beyond that we don't know much more.
"All those in the chain of duty have done what was required of them by the law."
Sheriff Paterson said Mr Scott was clearly a competent and qualified operative who was fully trained and with more than 40 years experience in the forestry industry.
'No blame'
He added: "There is no criticism of the emergency services in terms of response which in fact was exemplary.
"There were considerable resources to try and save his life.
"Therefore no blame can be attached to any parties involved as far as I can see."
The sheriff ruled that the death took place between 13:00 and 14:55 on 31 January in a woodland area at Sunderland Hall estate - these times being when Mr Scott resumed his duties after his lunch break and when the ambulance was called.
'Exhaustive process'
He added the cause of the death was a result of a tree falling on him but heart disease may have been a significant factor.
Sheriff Paterson concluded: "I cannot determine how the accident occurred beyond a tree falling on him.
"I make no further findings in terms of the act.
"It is a regret to all that this exhaustive process has not established much more."
The inquiry was told that following the accident, the Health and Safety Executive put out a safety alert on what measures should be taken for people working on felling trees.