'Sooner the better' for Hawick flood scheme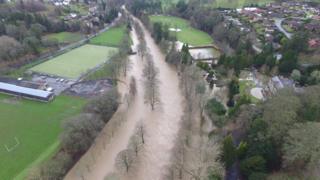 Flooding problems have highlighted the need to progress £44m defences for a Borders town, it has been claimed.
The River Teviot in Hawick overflowed this week as heavy rains mixed with melting snow.
Councillor Stuart Marshall - who is also co-ordinator of the town's flood group - said it underlined the need to take the proposed scheme forward.
It is hoped the project - to protect more than 900 properties - can be completed by 2022.
Scottish Borders Council gave its final approval for the plans late last year.
'Inevitable issues'
However, Mr Marshall said issues in the town this week showed how important it was to take them forward quickly.
"When you have got two major rivers running through the heart of the town - the River Slitrig and the River Teviot - it is inevitable that we are going to have these issues," he said.
"The sooner the flood protection scheme is in place for the town the better.
"People will be able to sleep in their beds much easier and take comfort.
"Hawick has suffered so badly over the years and we really do need to press ahead with this flood protection scheme."