'Special places' across Scotland secure support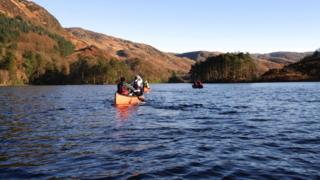 Nine "special places" across Scotland have secured a share of £2.4m to shape their future development.
The funding will allow them to explore how their "unique heritage" can help tackle wider community issues.
They are the first awards to be made in Scotland via the National Lottery's Great Place scheme.
The projects hope to put each area's heritage at the heart of plans to create "better places for people to live and visit".
The nine schemes which have secured backing are:
Outer Hebrides: Heritage for People - £156,000
Paisley and Renfrewshire: Developing a Cultural Destination - £250,000
Galloway and Southern Ayrshire Biosphere: PLACE (People, Land, Art, Culture, Environment) - £150,000
Glasgow: Reawakening Glasgow's Canal - £340,100
Dunfermline: Lighting up the Auld Grey Toun - £288,000
Badenoch Heritage: Bringing the Past to the 21st Century - £352,000
Greenock: Stories from the Street - £200,000
Falkirk: Landscape, Industry and Work - £462,300
Preston, Seton, Gosford: Heritage Connections - £249,000
Matt Hancock, UK government Secretary of State for Digital, Culture, Media and Sport, said: "Heritage is what makes our towns and cities unique.
"It attracts tourists and visitors and inspires local residents and businesses.
"This £2.4m investment in Scotland, funded by National Lottery players from across the UK, is harnessing that power to bring communities together, strengthening local economies, and making a real difference to people's lives across the country."
Culture Secretary Fiona Hyslop said Scotland's towns and rural areas had numerous buildings and places of "cultural significance".
"I commend the Great Place scheme and welcome this investment from the Heritage Lottery Fund (HLF) in supporting communities in the development and promotion of their local cultural assets," she said.
Lucy Casot, head of the HLF in Scotland, added: "You can't imagine Paisley without its pattern or Dunfermline without its abbey.
"Heritage and culture gives a place a unique identity and makes it special for the people that live there. It's the roots if you like.
"This scheme will show how building on those roots can have a hugely positive impact on local economies in terms of health, employment and education, as well as well as instilling community cohesion and pride."