Eastriggs Devil's Porridge museum secures funding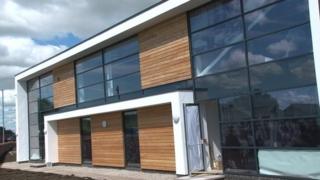 Operators of a museum dedicated to a south of Scotland wartime munitions factory have secured extra funding.
The Devil's Porridge exhibition and visitor centre will use it to increase the involvement of young people.
The award of nearly £45,000 has come from Young Start - part of the Big Lottery Fund.
Eastriggs and Gretna Heritage Group Chairman Richard Brodie said it would help young people "connect with history and culture" at the museum.
"The aim of the project is to develop young people's confidence and help different generations learn from each other and become more connected," he said.
"Young people will be able to learn skills from staff, volunteers and older people and hopefully the young people involved in the project will pass on modern skills to the older generation."
'Best start'
Among the skills they hope to share with young people are gardening and baking.
Maureen McGinn, who chairs the Big Lottery Fund Scotland, added: "Young Start helps Scotland's next generation unlock their talents through a wide range of activities.
"These are designed to engage and inspire young people, and ensure they have the best possible start in life.
"The funding will make a big difference and I wish Eastriggs and Gretna Heritage Group at the Devil's Porridge Museum every success as it goes on to develop and expand its project for the benefit of young people in their local community."
The museum is run by a team of volunteers and tells the story of the munitions factory, which stretched from Dornock to Longtown.
It takes its name - the Devil's Porridge - from the explosive paste which was mixed there.