Could we now see Scottish 'booze cruises' to England?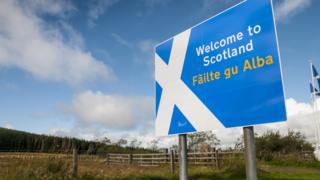 It was back in 2009, when suggestions of a minimum unit price for alcohol surfaced, that the then MP Russell Brown raised concerns.
He suggested that, in southern Scotland at least, cross-border "booze cruises" might become the order of the day.
Some years later, the path has now been cleared for the legislation to introduce a minimum price in Scotland.
So does anyone still believe it could see a rush of trade across the border to Carlisle or Berwick-upon-Tweed?
Majestic Wines, which has a store just over the border in Carlisle, said it hoped the legislation would soon be extended, thus avoiding any such issues.
Chief executive Rowan Gormley said: "We have always said that we support minimum pricing on alcohol rather than duty increases as this tackles the true issue of binge drinking cheap alcohol, not punishing those who enjoy alcohol responsibly.
"Majestic would therefore support minimum alcohol pricing in the whole UK."
However, it stressed it did not sell any alcohol which is below the threshold of the legislation so its customers would not be affected.
The Scottish Retail Consortium said it would wait and see before judging any potential cross-border impact.
Ewan MacDonald-Russell, head of policy and external affairs, said: "The priority now is for the Scottish government to provide clarity on how the scheme will work in Scotland, and to allow a fair timeframe to give businesses the opportunity to prepare.
"The SRC wants to work with the Scottish government to ensure the best system possible is put into place for retailers and consumers.
"We believe that will require both a reasonable implementation period, of at least six months, and clear guidance so retailers understand exactly how they can effectively implement the policy."
Dumfriesshire Conservative MSP Oliver Mundell claimed many people already did their shopping in Carlisle and took advantage of promotional offers on alcohol not available in Scotland.
He said he worried whether the implementation of the legislation had been "fully thought through" and it could have adverse effects on those already suffering from alcohol misuse.
"I am also worried that this controversial policy could prove to be a distraction from providing the continued and meaningful help and support those affected need," he added.
However, fellow MSP, the SNP's Emma Harper, who represents the south of Scotland said it was a "landmark moment" in Scotland's "troubled relationship" with alcohol.
"Given the clear and proven link between consumption and harm, minimum pricing is the most effective and efficient way to tackle the cheap, high strength alcohol that causes so much damage to so many families," she said.
"So I am pleased the Scottish government will proceed with plans to introduce minimum unit pricing as quickly as possible."