Pupils move into new £22.5m Kelso High School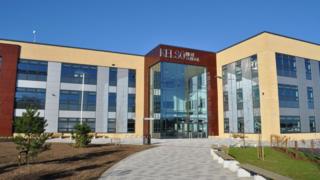 A new secondary school in the Borders has welcomed pupils for the first time.
Students set foot in the £22.5m Kelso High a week after leaving their old premises.
Scottish Borders Council's executive member for children and young people Carol Hamilton said it was a "significant day" for the town.
She said it would "transform education" in Kelso and provide "much-improved facilities" not only for pupils but also for the wider community.
"The previous high school had served the town well since 1939 but there is no doubt the new facility will provide additional benefits," she said.
"I would like to congratulate the council's project team for the considerable efforts to get the new school completed on time, as well as the local residents and Kelso Races for their co-operation during the works.
"As part of the School Estates Review, the council will continue to carry out considerable research and consultation so that our children and the wider community can have the best places for learning."
The school was funded by the Scottish government through its Schools for the Future programme, which is managed by the Scottish Futures Trust.
It was delivered by SBC in partnership with Hub South East Scotland and its contractor Morrison Construction.