Heritage 'angel' award winners revealed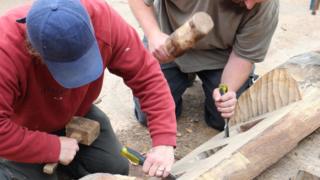 The winners of the Scottish Heritage Angel awards have been revealed.
The annual awards celebrate people who have protected, promoted and rescued Scotland's heritage.
Winning projects ranged from the restoration of shipbuilding offices in Glasgow to a mining museum tour created by school pupils Midlothian.
They will now compete with heritage projects from England and Northern Ireland to be crowned overall victor.
Best rescue of a historic building
Pat Cassidy of Govan Workspace, Glasgow, and a group of volunteers restored the shipbuilding offices of the former Fairfield Shipbuilding & Engineering Company in Govan, Glasgow. The building now hosts a shipbuilding museum and commercial offices.
Best contribution to a heritage project by a young person
Seven pupils from Gore Glen Primary School in Gorebridge, all apprentice guides at the National Mining Museum in Newtongrange, Midlothian, created their own museum tour for other schools. The museum is at the site of a former Victorian colliery which was in production between 1894 and1981.
Best craftsmanship or apprentice on a heritage rescue or repair project
Leslie Merriman was recognised for his work as a stonemasonry apprentice with the Orkney Monument Conservation Unit. Leslie now mentors new apprentices at Historic Environment Scotland.
Best rescue, recording or interpretation of a historic place
The Whithorn Trust was celebrated for building a full-scale reconstruction of an Iron Age roundhouse in Whithorn. The trust was set up in 1986 to explore the archaeology of Whithorn and its role in the evolution of Christianity in Scotland.
'Creating a legacy'
The awards, launched in 2014 with funding from the Andrew Lloyd Webber Foundation, are run by the Scottish Civic Trust in partnership with Historic Environment Scotland (HES), Archaeology Scotland and the Scottish government.
John Pelan, director of the Scottish Civic Trust, said the judges had an "extremely difficult job" in choosing the winners, who were selected by demonstrating "sharing of skills, overcoming adversity and creating a legacy".
Alex Paterson, chief executive of HES, said: "The dedication and enthusiasm shown by this year's winners and nominees is inspiring."
The Scottish Heritage Angel awards run parallel to competitions in England and Northern Ireland. An overall winner from the three nations will be selected and crowned at a ceremony in London on 20 November.