'Signature' Dumfries and Galloway events could help produce £30m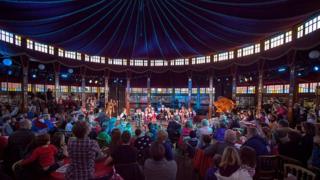 Seven "signature" events have been singled out for special support to help boost the south west Scotland economy.
They form part of Dumfries and Galloway Council's three-year major festivals strategy which it has been estimated could generate more than £30m.
The "stand-out" cultural and sporting events are all thought to be of "national significance".
However, the strategy also flags up the need to develop an "exit strategy" for funding other festivals.
The seven events selected as being of major importance can be given two-year support deals to ensure their long-term success.
Wigtown Book Festival
Organisers estimated the event generated £3m for the Scottish economy this year.
They described the 10-day festival as the "most successful ever".
It now runs a year round series of festivals to promote "cultural and economic development" in Scotland's national book town.
Dumfries and Galloway Arts Festival
The 10-day celebration of theatre, music, comedy and more takes place right across Dumfries and Galloway.
It has also launched a year-round programme of events and has seen audience figures and ticket sales rise significantly in recent years.
Big Burns Supper
Now heading towards its seventh year the festival has become a regular January attraction in Dumfries.
Among the acts announced for 2018 are Badly Drawn Boy, Donovan, Ocean Wisdom and Eddi Reader.
Spring Fling
The open studio event was being held across the region for the 15th time in May this year.
It has also been estimated to generate more than £1m for the local economy.
Tour of Britain
The elite cycling race did not visit Dumfries and Galloway this year but it is a regular in the region.
The last time it visited, sprinter Andre Greipel won the stage into Castle Douglas
Scottish Rally
A regular visitor to the area, it is estimated to have an economic impact of more than £250,000.
It is also thought to provide publicity for the region of similar value.
World Championship Ice Hockey
A number of events have been held at Dumfries Ice Bowl in the past with another on the horizon.
The Under-20 World Championship will take place between 10 and 16 December with team GB taking on Estonia, Japan, Korea, Netherlands and Romania.
It is not just about the "signature" festivals as there are two other funding streams available for other major or emerging events.
However, there will also be reductions as part of the strategy with the need to gradually withdraw support from commercial music festivals flagged up.
That means the Eden Festival, Electric Fields and the Knockengorroch World Ceilidh will see their funding taper off in order to invest in new projects and sustain signature events.