Dumfries man jailed following dog bite attacks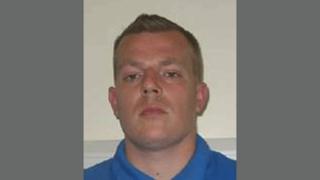 A man has been jailed for six months after his Staffordshire cross terrier attacked two women and a policeman.
The women, aged 73 and 62, were at a chemist's in Dumfries when Stuart McNeillie came in with the dog.
It bit one woman, causing her to fall and strike her head on a glass panel, and then bit the other woman. Two days later it bit a police officer.
McNeillie, 34, of Dumfries, admitted being the owner of a dog which was dangerously out of control last month.
He committed the offence at the pharmacy and in the town's Dock Park.
Degree of blame
Dumfries Sheriff Court heard that all three people required medical attention after the attacks with the older woman - who suffered a deep cut to her arm - still attending the doctor and permanently scarred.
Solicitor Vicki Urquhart said McNeillie had only had the dog - which had since been put down - for a few days after getting it from a family who had been having trouble with it and felt that he could manage it.
She said he had not appreciated the difficulties the animal could pose and had been shocked by what had happened.
However, Sheriff Brian Mohan noted that McNeillie had not seemed to take action to try to pull the dog back and said a high degree of the blame was attached to him.
He also pointed out that McNeillie had a record for other matters and had taken that into consideration in imposing the prison sentence.