Borders Railway campaign sees support surge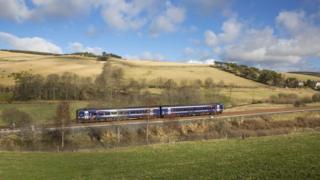 A group which wants to see the Borders Railway extended to Carlisle has seen membership surge since the route from Edinburgh to Tweedbank opened.
The Campaign for Borders Rail said membership had increased threefold - to 1,000 - in the past two years.
Spokesman Simon Walton said that was an all-time high for the organisation.
He said they looked upon the current line as the "first phase" of development of a route which would go all the way into Cumbria.
"The full economic benefit, and the potential for a socially inclusive and sustainable network, can only be fully achieved by completing the rest of the line," said Mr Walton.
"The surge in our paid-up membership, and the many thousands who view, follow and contribute to our social media channels prove there is an unfulfilled desire to give the Borders the boost they need through completion of this railway project."
Regenerate region
Membership secretary Dave Adams said he was working towards bringing in even more members.
He said CBR's summary case for a new cross-border rail link had helped to boost support.
"New members were offered a hard copy of the summary case, and it is already proving a valuable tool for promoting and explaining the campaign case," he said.
"I still urge existing members to recruit friends and family, and to see the campaign as a tangible way to help regenerate the Borders."
The membership landmark has been hit ahead of the CBR's annual general meeting which is being held in Hawick on 21 October.