Ae, Garlieston and Kirkbean school closure plans put on 'pause'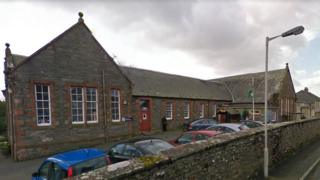 A council has decided to "pause" plans to shut three rural schools in the face of significant opposition.
Consultation on the proposals to shut Ae, Garlieston and Kirkbean primaries came to a close last week.
It provoked objections from the communities involved as well as local politicians.
Dumfries and Galloway Council said that, in light of "wide-ranging" representations, it would take extra time to consider the views received.
It said Education Scotland had been informed of the position and a paper on the situation would be presented to the council in November.
'Negative effects'
"This very much aligns with the new revised council plan on engaging with communities to deliver collaborative solutions," a spokesman said.
When consultation began the three schools had 37 pupils in total with a combined capacity of nearly 200.
If the closures had been given the go-ahead, the primaries could have been shut by July next year.
Ae Primary parent John Magill said the pressure would be kept up to retain all three schools in the long term.
He said research into literacy and numeracy levels at rural schools and urban schools had shown that composite classes "were not shown to have any negative effects in terms of the children's attainment."
He added that the level of confidence and inter-personal skills provided favoured smaller, rural schools.
'Out of touch'
SNP MSP Joan McAlpine said she was confident the "pause" would become a "full stop".
"Dumfries and Galloway is a vast, very rural area and education cannot be concentrated in a few urban centres," she said.
Labour's Colin Smyth said it was right not to shut the schools but it meant savings would have to be found elsewhere.
"The public need to start to show the same level of fight against austerity as they rightly did to save schools and start to send a clear message to government - no more cuts," he said.
Oliver Mundell, of the Conservatives, said the process had shown how "out-of-touch" some councillors were.
"Rather than try and backtrack and save face, the council should just take these proposals off the table altogether and let our teachers get back to doing what they do best; serving our rural communities," he said.