Dunscore Church heritage centre honours Jane Haining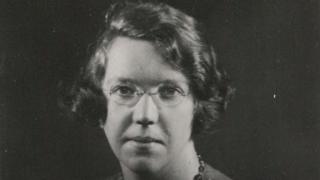 A Scottish woman who died at Auschwitz is being honoured at a new heritage centre.
The facility is in the refurbished church at Dunscore - the Dumfries and Galloway village where she grew up.
The centre includes film, literature and artefacts including her hand-written will.
Ms Haining gave her life to help protect Jewish schoolgirls during World War Two while working as a Church of Scotland missionary in Hungary.
Among the items on display at the centre is her Hero of the Holocaust Medal.
The exhibition also focuses on the history of Dunscore Church - the current A-listed building dates back to 1823 - and the village.
It is open to the public on weekend afternoons from Saturday.
A memorial cairn for Ms Haining already stands near the church which has just been refurbished after serious damage during winter storms in 2013.
Session Clerk Colin Mitchell said: "It is amazing that over three years of very hard work is now coming to such a wonderful conclusion.
"When we discovered the extent of the damage to the building, it was clear that it would be a major job to source the funds and to manage the project but we had no idea how big a job it would be.
"We are thrilled by the outcome and the work undertaken has been to a very high standard, enhancing the internal architecture of the church."
He said that they hoped people would visit to find out more about Ms Haining and the church.
"In addition to a weatherproof building, we have a much improved interior space and the heritage centre will be wonderful addition to the life of the village," he said.
"We look forward to welcoming visitors both to our church services and to the heritage centre."