Theatre Royal in Dumfries celebrates 225 years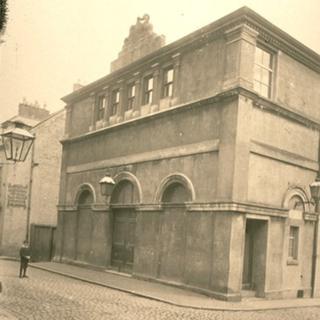 The story of Scotland's oldest working theatre is one that any playwright would be proud of.
It has boasted a cast of famous names from its outset and has seen numerous dramatic twists of fate.
So it is little wonder that Dumfries is proud of its Theatre Royal located, appropriately enough, on the town's Shakespeare Street.
The old building has certainly known some highs and lows over its 225-year history.
Before it was even constructed, the project enjoyed some significant support in the shape of Robert Burns who could see the need for such a facility in his adopted hometown.
'Permanent place'
Peter Bain, the theatre's heritage and education officer, said: "Prior to 1792 Dumfries didn't have any theatres whatsoever.
"Touring companies would visit the town and perform in whatever spaces were available - we just didn't have a permanent place for it."
It was actor-manager George Stephen Sutherland who started the campaign to address this issue and it gathered strong local support.
Few were more enthusiastic in their backing than Burns who wrote pieces to help raise funds for the project.
His friend, Cpt Robert Riddell, was also a patron of the theatre.
Designs were drawn up by local architect Thomas Boyd and construction began in 1790 with the building - then known as the New Theatre - opening its doors on 29 September 1792.
The cost, back then, was estimated at £800 and it proved to be a "roaring success".
"With no television or radio to compete with, theatre was the go-to form of entertainment," Mr Bain said.
Among the famous names of the 1800s to perform were child actor William Henry West Betty - also known as Master Betty - and Shakespearean actor Edmund Kean.
And the influence of their fellow thespian, Gustavus Vaughan Brooke, persists to this day with nearby Brooke Street named in his honour.
Business was booming by the second half of the 19th Century and among regular visitors was Peter Pan author JM Barrie, then a schoolboy in the town.
'Absolutely fascinated'
"This was his favourite theatre because it was his first theatre," Mr Bain explained.
"He would sit in the front row at the very, very end where he could peek into the wings.
"He was absolutely fascinated with the workings off stage."
It was around Barrie's time that a major remodelling took place with renowned architect Charles J Phipps taking capacity up to 1,000 in 1876.
Many big names in theatre visited, including, Mr Bain believes, the group of music hall comedians known as Fred Karno's Army.
If they did, then it offers the tantalising possibility that a young Charlie Chaplin and Stan Laurel may have visited.
One young actor who definitely did appear, was local lad John Laurie who would go on to fame in Dad's Army.
Those glory days, however, were on the wane.
By the 1920s, the building was leased out as a cinema due to the rising popularity of that form of entertainment. It was also used as an auction hall and roller skating rink.
Auld Scratch
The building also had a name change to the Electric Theatre although it had another, less complimentary, nickname in the town.
Mr Bain said that because of the heat and the number of people packed in it was often referred to as the "Auld Scratch".
It soldiered on until 1954 when the decline in its fortunes was so great that it closed for good.
However, five years later it was spotted by local acting group the Guild of Players and was snapped up to become their permanent home, which it is to this day.
It reopened in 1960 with the guest of honour Sir Compton Mackenzie, of Whisky Galore fame.
The theatre enjoyed a revival, but as the years progressed the old building started to show signs of decay.
There were genuine fears it could close as initial plans for an overhaul failed to secure financial support.
However, local charitable group the Holywood Trust stepped in to ensure it survived and others also backed expensive upgrade plans.
Work on the theatre redevelopment was completed in 2015 with a slightly more modest 190 capacity compared to its peak in the late 19th Century.
With a separate, smaller performance space, the venue now hosts all kinds of performances and is also a key facility for developing local talent in drama and music.
All of this has been achieved within a facade which Burns himself would probably still recognise if he was roaming the streets of the town today.